If you are looking for the freshest, mouthwatering, classic pizza with quality ingredients, you have come to the right place. Here are the 25 Best Pizza in Queens NY.
There is no secret to learn that the world has an obsession with eating pizza and simply can't get enough. With so many varieties and endless toppings choices, there is something for everyone.
But here is the deal,
New York is known for its pizza, and there is no shortage of pizzeria, but not all pies are created equal. So we have gathered a list of the favorite pizzeria that we can guarantee will fill your appetite.
Philomena's
Philomena's is the place to go if you want new, high-quality ingredients served on thick, crispy bread with generous toppings. Yelp reviewers have called it "Best NYC Slice".
While there, enjoy the pizza, Don't Miss out on the incredible desserts, like cannolis and Nutella donuts.
Margherita Pizza
Margherita Pizza is full of freshly made, over-the-top in taste pizza. They serve the best tasting pizza in Jamaica NY!
A small shop on a corner on Jamaica Avenue is often crowded, with lines stretching out the door.
That should tell you everything you need to know!! However, the customers are normally served quickly enough.
Louie`s Pizzeria
Louie`s Pizzeria has it all, from traditional Sicilian slices to New York style and deep dish! The toppings are kept plain, the bases are thin and crispy, and the flavor explodes in your mouth as soon as you take a bite. It is considered to serve the best pizza in Elmhurst Queens.
Alfie's Pizza
Alfie's Pizza– The standard squares here have a thick crust and a soft texture that sets them apart from the rest of the city. According to the owner, their pies are made with the sauce on top of the cheese, it's the original style pizza. The Pizzeria has been around since 1969 and since then has served the best pizza in Richmond Hill NY.
Lucia Pizza
Lucia Pizza– This pizzeria is well-known for its authentic Sicilian pizza and side dishes such as garlic knots.
An authentic Italian/New York-style pizzeria specializing in super-specialty pizzas with fresh, high-quality toppings and delicious dough.
Be aware that there is normally no available seating.
Milkflower
Milkflower – In 2013, the luxury pizzeria opened a Neapolitan pizza shop in Astoria.
The pizzas are baked in a wood-fired oven and come with a number of toppings, including caramelized red onions and scallions, as well as gruyere and mozzarella cheeses.
Their 11 pizzas, including Margherita, have earned them the title of the Best Pizza in Astoria, New York.
Rosa's Pizza
Rosa Pizza– is famous for its sauce-on-top-Sicilian, but The Grandma slices are a particular favorite.
Rosa offers a wide variety of toppings, including pasta, vegetables, bacon, and other meats, as well as ravioli and taco toppings if you're looking for something a little different. It's our choice of the best Pizza in Maspeth NY.
Carlo's Pizza
Carlo's Pizza – offers more than just delicious daily slices; their specialty slices are unrivaled. If you are looking for something different, try their calamari pizza. You're not a big fan of seafood?

Chicken bacon ranch, onions, breadcrumbs, fresh mozzarella, and tomato are only a few of the specialty toppings available at Carlo's.
New Park Pizza
New Park Pizza– Gooey slices are served with a slightly sweet tomato sauce at this Howard Beach pizzeria. The pies are baked in a brick oven, and the crust has more flavor depth than a traditional corner slice. It's close to JFK airport, making it a great place to eat before or after a trip.
Matese Pizza
Matese Pizza– If you are looking for a large range of specialty toppings then Matese Pizza is a must-visit. Try one of their delectable pizzas, such as the chicken cacciatore, spinach alfredo, or upside-down Sicilian pizza.
Rizzo's Fine Pizza
Rizzo's Fine Pizza– signature slice is a thin-crusted square that keeps you coming back for more. A single slice of creamy mozzarella is flanked by bits of sharp and mild grated cheeses in this recipe, which contains copious quantities of rich, tangy tomato sauce.
All of this is served on top of a thin, crispy crust baked in a gas oven.
Tufino Pizzeria Napoletana
Tufino Pizzeria Napoletana– It's a family-owned restaurant that uses 200-year-old pizza-making techniques.
The San Gennaro pizza, which has toppings like Italian sausage and wood roasted peppers, is one of the menu's highlights.
Vegan and vegetarian entrees are also available at the restaurant.
If you are unable to visit in person, you can place an order for pizza via the company's website.
Brother's Pizzeria
Brother's Pizzeria– This no-frills neighborhood pizzeria keeps it so hardcore that it only serves regular and Sicilian slices.
There will be no Buffalo chicken, no avocado kale smoothie, you will just get pizza. The classic New York slice is thin, clean, and saucy with a strong shot of oregano.
Pizza Sam
Pizza Sam– For over 50 years, Pizza Sam has been a Jackson Heights institution, and their pizza is still as delicious as it was when they first opened their doors. Try their supremo slice, which comes in meat, veggie, or a mixture of both, if you're looking for a one-of-a-kind specialty slice.
Nick's Pizza
Nick's Pizza– Their pizzas are consistently delicious, with a crispy crust, melted mozzarella cheese, delicious marinara sauce, and a touch of fresh basil to finish.
There are over two dozen more toppings to choose from as well.
Nick's not only serves delicious pizza but they have amazing salads to choose from and yummy cannolis for dessert.
Basil Brick Oven Pizza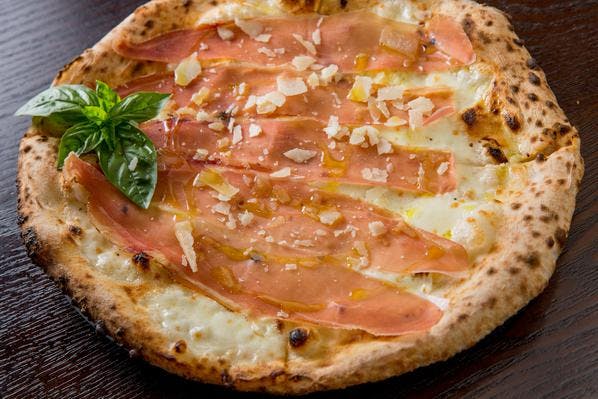 Basil Brick Oven Pizza– It's known for its artisan wood-fired pizzas, which are guaranteed to be cooked to perfection.
Though there is plenty of seating in the restaurant for you and your guests, Basil Brick Oven Pizza also accepts online orders.
You can order sandwiches, calzones, and pasta in addition to pizza.
Centre Pizzeria and Restaurant
Centre Pizzeria and Restaurant brings pasta-topped pizza to the next level by topping specialty pizzas with ravioli topped with vodka sauce.
They also offer a variety of delectable specialty toppings, such as chicken marsala, pizza diavolo, and more.
Beebe's
Beebe's– While there are a number of specialty pies on the menu, diners are able to customize pies to their liking. You can choose the Margherita, vodka, or blank page ( housemade ricotta, pecorino, mozzarella, and garlic) as a base and add on all types of toppings from anchovies to sweet fennel sausage.
The Hot Italian is also a crowd favorite, and the Mike's Hot Honey drizzled on top adds a touch of sweetness and heat.
Aegea West
Aegea West Mediterranean Kitchen (-Aegea West) was voted the best pizza in Queens 2021 by "Best of Queens". It offers a range of premium toppings for its traditional and Sicilian pies, as well as exclusive choices including a Buffalo Chicken pizza, a Chicken Bacon Ranch pizza, a Greek pizza, and a Penne a la Vodka pizza.
Anything you won't find at your neighborhood pizzeria: Aegea West also has 9-inch pita pizzas for those who want a Mediterranean spin on their pizza.
Sunnyside Pizza
Sunnyside Pizza– serve Pizzas such as Margherita and Hawaiian are available on the menu.
You can also customize your pizza by selecting toppings such as chicken, blue cheese crumbles, broccoli, meatballs, and eggplant from the toppings section.
The restaurant is owned and operated by a second-generation Italian family who uses authentic Roman recipes.
Cascarino's Brick Oven Pizzeria & Ristorante
Cascarino's Brick Oven Pizzeria & Ristorante – There are a variety of specialty pizzas to choose from at Cascarino's. They have a range of unique toppings to choose from, including white spinach pizza, bacon potato pizza, and bruschetta pizza, in addition to their popular Grandma Sicilian pizza.
Pizza Garden
Pizza Garden – For two dollars, you get a thin, crisp slice with a splash of oregano that cracks when folded perfectly.
The Pizza Garden slice has a smooth, gooey mozzarella that begins to slip off the crust about halfway through eating, making it cheesier than a lot of the other locations on this list.
You can actually take some time to eat inside in the comfort of the surprisingly spacious dining room, which is still busy and fresh.
Gaby's Pizza
Gaby's Pizza– Their eatery is tiny and intimate. They do, however, use authentic Italian dishes. Favorites such as cheese and pepperoni pizzas are available on Gaby's Pizza's menu.
House specialties include the Bianca pizza, which features both mozzarella and Parmesan cheeses.
Sac's Place
Sac's Pizza is a large pizzeria-restaurant that serves coal-oven slice, which is rare in New York.
They bake the crust in a coal oven and then reheat it in a regular gas-fired deck oven when you order a slice.
Sac's serves one of the best pizzas in Astoria. Their slices are crisp, with a vivid tomato sauce and just the right amount of cheese.
It deserves a lot more buzz than it currently gets.
VIPizza
VIpizza has been voted the best pizza by "Best of Queens". For over 50 years, they have faithfully served you by making all of their dough on the premises every day and preparing it with the finest cheese and the best ripe tomatoes for that fresh taste the old-fashioned way. Their traditional hand-tossed pizza is their specialty.
It's no surprise that they use only the best ingredients in their delicious pizza, which is why so many New Yorkers consider them to be the best.
So there you have it our list of the top best Pizza in Queens NY!
What did you think about the list? Or maybe there's is a Pizzeria that we missed.
Let me know by leaving a comment below.